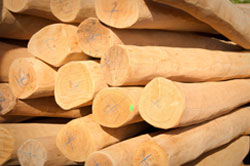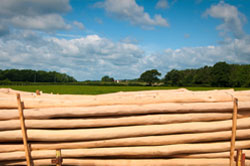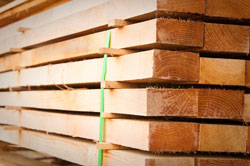 How durable is the Robinia Timber wood?
The life expectancy of Robinia Timber Wood in an untreated form is the following:
Contact with soil outdoors | 25-40 years
Not in contact with soil outdoors | 80-100 years
Dry and under water | 400 years or over
Dylan Group offers a 15 year guarantee on all it's Robinia Timber Products against rot or decay.
Is Robinia Timber wood poisonous?
There have been some reports that state Robinia may be potentially noxious however these studies state that it's only the bark that is harmful and too a much lesser extent, the seeds and leaves. If vast amounts of bark or seeds were to be consumed, it may cause nausea and vomiting along with stomach-ache and pains, diarrhea could also be a symptom. That said, cases are extremely rare.
NOTE: It's important to emphasise that both the bark and sap wood are removed as standard from all Dylan Group's Robinia timber products so there is no risk of poisoning.
Does the Robinia Timber come from FSC timber management suppliers?
The Dylan Group and it's suppliers support the sourcing of FSC timber for it's constructions. The Robinia Timber wood used by Dylan Group originates from forests that are supervised, assessed certified by the Forest Stewardship Council (FSC).
Dylan Group License Number: FSC-C007915 with Certificate number: NC-COC-005535-PO
Dylan Group can supply FSC ® Certified Robinia Hardwood Poles, Sawn Cut Boards & Planks, Waney Edge, Decking and Shingles / Shakes.
For further information or to discuss your requirements, please call us on 0845 450 9405 or send us an email.